Hunting method "Grand slam hunt"
Hunt all varieties of a certain type of game worldwide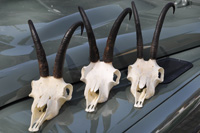 One hunting trophy is not enough for you? What about a whole series of trophies and that of all varieties of a certain type of game? Since Grand Slam Hunting became increasingly popular, this type of hunting has now established a firm place in our range of hunting offers.
We organize your Grand Slam Hunt complete with all stays over the globe. We tailor everything to your wishes and if wished, we also bring in our years of experience.
Whether red-stag, ibex, chamois, mouflon, etc. - all species are possible. Your Grand Slam Hunt Outfitter.
Inquiry today and inform yourself about the numerous possibilities.
Where is Grand slam hunt possible?
---
Grand slam hunt in Austria (Europe west)

Hunting in the mountains with forests and lakes.

Hunting the chamois in Europe's largest appearance of chamois in the Hochschwab-Massiv and adjacent mountain ranges.

| | |
| --- | --- |
| Shooting season: | 01.07. - 31.12. |

---

Grand slam hunt in Spain (Europe west)

Traditional hunting communities (battue hunt, driven hunt) as well as individual hunts in unstructured surfaces with high mountain ranges close to the sea.

In Spain live two special subspecies of the chamois (Cantabrian chamois, Pyrenaen chamois), which make the hunting there very interesting especially for the hunting methode of Grand Slam Hunt.

| | |
| --- | --- |
| Shooting season: | 01.09. - 15.12. |

---

Grand slam hunt in Switzerland (Europe west)

Mountain hunting in the high mountains.

Ambitious chamois hunt at the highest peaks of the Swiss Alps.

| | |
| --- | --- |
| Shooting season: | 10.09. - 30.09. |

---

Grand slam hunt in Croatia (Europe east)

Hunt for numerous game species in mountains, forests and coastline with continental and mediterranean climate.

Hunting on the Alpine and Balkan chamois at the Croatian Adriatic coast. Appearance of the strongest Balkan chamois at all.

| | |
| --- | --- |
| Shooting season: | 01.09. - 31.12. |

---

Grand slam hunt in Slovenia (Europe east)

Hunting in mountain terrain, red-stags also up to higher layers.

Chamois hunting on the sunny side of the Alps. High chamois population not only in the high mountains, but also in the average mountains.

| | |
| --- | --- |
| Shooting season: | 01.08. - 15.12. |

---

Grand slam hunt in Bulgaria (Europe east)

Traditional hunting in lowlands and average mountains.

Hunting the Balkan chamois with impressive populations.

| | |
| --- | --- |
| Shooting season: | 01.07. - 31.12. |

---

Grand slam hunt in Romania (Europe east)

Huge forests, plains, mountains, abundant hunting grounds (also with rare game).

Excellent populations of chamois with impressive trophies. There lives a special subspecies of the chamonios in Romania (Carpathian chamois), what makes the hunting there very interesting especially for the hunting methode of Grand Slam Hunt.

| | |
| --- | --- |
| Shooting season: | 01.07. - 31.12. |

---
Hunting outfitter for grand-slam-hunt with hunting offers: grand-slam-hunt in Europe, Africa, South America