Hunting Chamois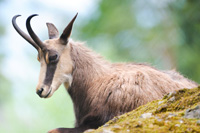 Chamois hunt - Traditional hunting in the mountains
Chamois in Europe inhabites the entire Alpine region, but also parts of the Balkans and the Carpathians. What just few hunters know is, that chamois can also be hunted in New Zealand very well. The naturalization was made in 1907 by the Austrian Emperor Franz Josef, where it could evolve since then very excellent.
By the chamois the goats give as well as the bucks a nice trophy. Very popular is the special hunting method grand-slam-hunt at the chamois. Here, all subspecies are shot in their respective countries.
Due to the high populations, the chamois is one of the most popular and commonly hunted game species in Europe.
Follow with us the tracks of the chamois and experience a traditional hunting adventure in Europa.
Where can I hunt the game "Chamois"?
---
Hunting the chamois in Europe's largest appearance of chamois in the Hochschwab-Massiv and adjacent mountain ranges.

| | |
| --- | --- |
| Shooting season: | 01.07. - 31.12. |

---

Chamois in Spain

In Spain live two special subspecies of the chamois (Cantabrian chamois, Pyrenaen chamois), which make the hunting there very interesting especially for the hunting methode of Grand Slam Hunt.

| | |
| --- | --- |
| Shooting season: | 01.09. - 15.12. |

---

Ambitious chamois hunt at the highest peaks of the Swiss Alps.

| | |
| --- | --- |
| Shooting season: | 10.09. - 30.09. |

---

Hunting on the Alpine and Balkan chamois at the Croatian Adriatic coast. Appearance of the strongest Balkan chamois at all.

| | |
| --- | --- |
| Shooting season: | 01.09. - 31.12. |

---

Chamois hunting on the sunny side of the Alps. High chamois population not only in the high mountains, but also in the average mountains.

| | |
| --- | --- |
| Shooting season: | 01.08. - 15.12. |

---

Hunting the Balkan chamois with impressive populations.

| | |
| --- | --- |
| Shooting season: | 01.07. - 31.12. |

---

Excellent populations of chamois with impressive trophies. There lives a special subspecies of the chamonios in Romania (Carpathian chamois), what makes the hunting there very interesting especially for the hunting methode of Grand Slam Hunt.

| | |
| --- | --- |
| Shooting season: | 01.07. - 31.12. |

---
Hunting outfitter for chamois hunting with hunting offers: Hunt the chamois in Europe: Austria, Spain, Switzerland, Croatia, Slovenia, Bulgaria, Romania