Hunting Wild-boar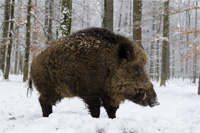 The wild-pig belongs to the family of real pigs. It is the ancestor of the domestic pig and is also known under the generic term wild-boar.
The wild-boar has its origins in Western Europe. Wild-boars are very adaptable omnivores. In Central Europe, the population is currently increasing, especially through increased cultivation of maize, why it migrates more and more into human settlements.
Follow with us the tracks of the wild-boar - in the countries of the wild-boar's origin - and enjoy a great hunting adventure.
Where can I hunt the game "Wild-boar"?
---
Excellent hunting opportunities, best supply of food and accommodation.

| | |
| --- | --- |
| Hunting offers: | Stalking hunt, High-seat hunt, Battue hunt/driven hunt |
| Shooting season: | 01.01. - 31.12. |

---

Wild-boar in Spain

The wild-boar hunting has a long tradition in Spain - as an individual and as a battue- or driven-hunt.

| | |
| --- | --- |
| Hunting offers: | Stalking hunt, High-seat hunt, Battue hunt/driven hunt |
| Shooting season: | 01.01. - 31.12. |

---

The wild-boar is the second most common huntable ground game after the roe in Germany.

| | |
| --- | --- |
| Hunting offers: | Stalking hunt, High-seat hunt, Battue hunt/driven hunt |
| Shooting season: | 01.08. - 31.12. |

---

Wild-boars belong in Hungary to the most hunted game in the country. The majority of the wild-boar population is located in western Hungary.

| | |
| --- | --- |
| Shooting season: | 01.01. - 31.12. |

---
Hunting outfitter for wild-boar hunting with hunting offers: Hunt the wild-boar in Europe: Austria, Spain, Germany, Hungary, Great Britain