Hunting Antelopes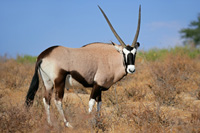 The term antelope is a common collective name for a number, not more closely related to each other in some species of wild bovids in Africa. For this purpose, among others, oryx, kudu, eland count (eland antelope), springbok and blackbuck (Blackbuck).
Antelopes are often hunted for their exotic and sometimes powerful trophies. But the antelope hunting usually results in an extraordinary hunting experience with them.
Come with us on antelope hunting and experience an unforgettable safari hunting adventure in breathtaking areas with incredible biodiversity.
Where can I hunt the game "Antelopes"?
---
Antelopes such as oryx, kudu, eland, etc.

| | |
| --- | --- |
| Shooting season: | 01.02. - 30.11. |

---

Antelopes such as oryx, kudu, eland, etc.

| | |
| --- | --- |
| Shooting season: | 01.05. - 31.12. |

---

Antelopes such as oryx, kudu, eland, etc.

| | |
| --- | --- |
| Shooting season: | 01.03. - 31.10. |

---
Hunting outfitter for safari hunting (antelope hunting) with hunting offers: oryx, kudu, eland, antelope hunt in Africa: Namibia, Tanzania, South Africa