Hunting Wolf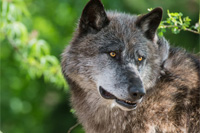 Wolf - mythical predator
The wolf is a predator species and belongs to the family of dogs. Wolves are pack animals which affects not only their hunting behavior, but also their entire life. The main prey are medium-sized and larger ungulates, but also particularly large ungulates such as moose are among the prey of the wolf.
Because the wolf was already mentioned earlier in myths and fairy tales, he is one of the best known predators in the world. The fear of the wolf, especially in the Middle Ages caused, that wolves in many parts of the world were cut off. Gradually the selltement succeeded again into previously threatened regions. Today, the population has recovered enough in many countries again, so that it is absolutely no problem in some countries, to hunt the wolf.
Follow with us the tracks of the wolf and enjoy a great hunting adventure.
Where can I hunt the game "Wolf"?
---
Croatia has comprehensive population of wolves, what allows to hunt the wolf, in opposite to many other European countries.

| | |
| --- | --- |
| Hunting offers: | Stalking hunt, High-seat hunt |
| Shooting season: | 01.01. - 31.12. |

---

Bulgaria is one of the few European countries that have a significant wolf population. The best way to hunt wolves is by using a lure. In areas where fresh wolf tracks were found is also driven hunt possible.

| | |
| --- | --- |
| Shooting season: | 01.01. - 31.12. |

---

Romania is one of the few countries in which the wolf hunting due to high populations is still permitted.

| | |
| --- | --- |
| Shooting season: | 01.01. - 31.12. |

---
Hunting outfitter for wolf hunting with hunting offers: Hunt the wolf in Europe: Croatia, Romania