Hunting Ibex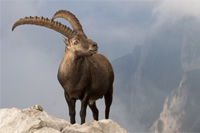 Ibex - King of the Alps
The ibex, also known as the steinbock, is a species of wild goat, which predominantly lives in the Alps (Alpine ibex).
His awesome large, up to 1m long horns, make the ibex to one of the most impressive game in the high mountains.
The ibex lives at the height between timber line and snow line and ascents to heights of up to 3.500m. In winter he stays in deeper layers than in summer, and also in summer he often ascents up to alpine lawns for eating.
The Alpine ibex has an average head-body-length of 150cm and a shoulder-height of 90cm. Feminine exemplars have a weight of 40kg, whereas bucks can weigh more than whopping 100kg.
Follow with us the tracks of the ibex and return home with a proud record trophy.
Where can I hunt the game "Ibex"?
---
The Alpine Ibex is one of the wild species of Austria with the most impressive hunting trophies.

| | |
| --- | --- |
| Hunting offers: | Stalking hunt, High-seat hunt |
| Shooting season: | 01.10. - 31.01. |

---

Spain is not only known for its excellent populations of ibex, there live even four different subspecies: Beceite ibex, Gredos ibex, Granada ibex and Ronda ibex.

| | |
| --- | --- |
| Hunting offers: | Stalking hunt, High-seat hunt |
| Shooting season: | 15.09. - 30.06. |

---

Switzerland has a rich population of Alpine ibex.

| | |
| --- | --- |
| Shooting season: | 10.08. - 05.09. |

---

The Alpine Ibex lives only in the north of the country.

| | |
| --- | --- |
| Shooting season: | 01.08. - 31.12. |

---

The alpine-ibex is one of the most liked hunting destinations in Slovenia.

| | |
| --- | --- |
| Shooting season: | 01.08. - 31.12. |

---

The population of ibex in Bulgaria is not to underestimate, with respectable trophies.

| | |
| --- | --- |
| Shooting season: | 01.10. - 31.01. |

---
Hunting outfitter for ibex hunting with hunting offers: Hunt the ibex in Europe: Austria, Spain, Switzerland, Croatia, Slovenia, Bulgaria