Hunting Roe Buck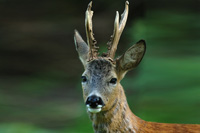 Roe Buck - most common deer species in Europe
The roe buck is the most common and at the same time smallest member of the deer in Central Europe. Originally the roe populated forest fringes and clearings, but meanwhile it has developed a number of very different habitats and is now also to find on open areas.
Due to the high populations, the roebuck counts to the most popular and mostly hunted game in Europe.
Follow with us the tracks of the roebuck and experience a traditional hunting adventure in Europa.
Where can I hunt the game "Roe Buck"?
---
Appreciable population with excellent hunting opportunities throughout Austria.

| | |
| --- | --- |
| Shooting season: | 01.06. - 15.10. |

---

Excellent population, antlers weights up to 500g are not uncommon.

| | |
| --- | --- |
| Shooting season: | 01.04. - 20.10. |

---

Ambitious hunting, outstanding populations, excellent hunting opportunities.

| | |
| --- | --- |
| Shooting season: | 01.05. - 15.06. |

---

Roe Buck in Spain

Roebuck in the spanish mountains with excellent populations.

| | |
| --- | --- |
| Shooting season: | 01.04. - 15.10. |

---

Highest hunting line in Europe with more than a million shot animals.

| | |
| --- | --- |
| Shooting season: | 01.05. - 15.10. |

---

High game density, excellent hunting opportunities.

| | |
| --- | --- |
| Shooting season: | 01.10. - 15.11. |

---

High chance for capital roebuck (up to 170 CIC points).

| | |
| --- | --- |
| Shooting season: | 01.05. - 30.09. |

---

Excellent populations. A special hunting experience is the rutting season in late July to early August.

| | |
| --- | --- |
| Shooting season: | 01.05. - 30.09. |

---

Excellent hunting opportunities on medium to capital roe-bucks. Best hunting time is in May with low vegetation and the end of July / beginning of August during the rut.

| | |
| --- | --- |
| Shooting season: | 01.05. - 31.10. |

---

Bulgaria offers excellent conditions for roe-bucks, so it can boast with high populations. Record trophies with 500g and more are not uncommon.

| | |
| --- | --- |
| Shooting season: | 01.04. - 20.10. |

---

Romania has very high population of roe-bucks. Bucks with more than 500g are not uncommon.

| | |
| --- | --- |
| Shooting season: | 01.04. - 20.10. |

---
Hunting outfitter for roe buck hunting with hunting offers: Hunt the roe buck in Europe: Austria, Great Britain, Sweden, Spain, Germany, Switzerland, Croatia, Hungary, Slovenia, Bulgaria, Romania