Hunting Black Cock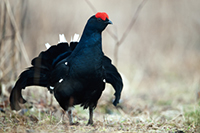 Black Cock - majestic game bird in Europe
The black cock, also known as black grouse or blackgame, counts to the family of grouse.
With an impressive body length of up to 60cm, a wing length of up to 30cm, a tail length of about 20cm and a weight of up to nearly 2kg, it is one of the largest huntable bird species in Europe. The largest population can be found in the Alps, near the tree line.
Follow with us the tracks of the black cock and enjoy a great hunting adventure.
Where can I hunt the game "Black Cock"?
---
Austria has an excellent population of black cocks in the alps. The hunt takes place at higher layers in the mating grounds where is usually still snow at this time. A special attraction in the black cock hunting is, that the cocks often fight at the turbulent mate.

| | |
| --- | --- |
| Shooting season: | 01.05. - 15.06. |

---

Black Cock in Sweden

With its vast forests and valleys Sweden offers the black cock an excellent natural habitat, which results strong cocks and a high population.

| | |
| --- | --- |
| Shooting season: | 01.06. - 31.01. |

---

Black Cock in Latvia

Hunting the black cock in wooded areas, but partially also on open meadows and wetlands.

| | |
| --- | --- |
| Shooting season: | 1.10. - 30.11. |

---

Increasing population of black cocks with considerable strength in the Balkans and in the Rhodope Mountains.

| | |
| --- | --- |
| Shooting season: | 25.08. - 31.01. |

---
Hunting outfitter for black cock hunting with hunting offers: Hunt the black cock in Europe: Austria, Sweden, Latvia, Bulgaria