Hunting Capercaillie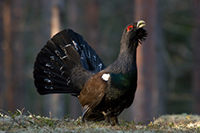 Capercaillie - largest game bird in Europe
The capercaillie, also known as wood grouse or heather cock, counts to the family of grouse and is with a size of up to 1 meter, an impressive wingspan of 90cm and a weight of no less than 5kg, the largest game bird in Europe.
It lives in needle-, mixed- and deciduous forest zones from Scotland to Northern Europe to the east of Central Siberia. The greatest population of capercaillies is in the Central European Alps. Austria is one of the most popular countries for hunting capercaillies.Mainly the capercaillie lives in light, stepped forests with rich soil vegetation from 1,000 meters sea level, in Eastern Europe it can partially also be found in deeper layers.
Follow with us the tracks of the capercaillie and enjoy a great hunting adventure.
Where can I hunt the game "Capercaillie"?
---
Capercaillie in Austria

Austria can't only boast with extremely high appearance of capercaillies, it is also one of the few countries where it is still allowed to hunt the capercaillie.

| | |
| --- | --- |
| Shooting season: | 01.05. - 31.05. |

---

Capercaillie in Sweden

Hunting the capercaillie has in Sweden a centuries-old tradition. Traditionally, here is hunted with pointing dogs. At high snow the hunt is most successful with using snowshoes or skis.

| | |
| --- | --- |
| Shooting season: | 25.08. - 31.01. |

---

Capercaillie in Latvia

Hunting the capercaillie in wooded areas as well as on open meadows and wetlands.

| | |
| --- | --- |
| Shooting season: | 10.04.- 10.05. |

---

Bulgaria has a not inconsiderable appearance of capercaillies, particulary in the Rhodope Mountains.

| | |
| --- | --- |
| Shooting season: | 15.4. - 15.5. |

---
Hunting outfitter for capercaillie hunting with hunting offers: Hunt the capercaillie in Europe: Austria, Sweden, Latvia, Bulgaria