Hunting Red-stag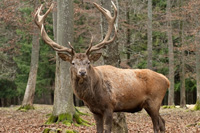 Red stag - King of the forests
The red-stag belongs to the family of real deers. From other stags he sets apart through his mighty, widely ramified antlers, which is especially treasured by hunters as hunting trophy.
The occurence of red-stags is predominantly in Europe as well as in Asia, in different subspecies. In Central Europe the red-stag counts to one of the largest game living in the wild.
The stags are differed through the number of their antlers. The more ends the antlers have, the higher is the glory for the hunter.
Follow with us the tracks of the red-stag and return home with a proud record trophy.
Where can I hunt the game "Red-stag"?
---
In Austria, the red-stag has expanded its settlement area in recent years. It is the game with the most impressive trophy size in Austria. Already Emperor Franz Josef loved hunting the red-stag.

| | |
| --- | --- |
| Hunting offers: | Stalking hunt, High-seat hunt |
| Shooting season: | 01.08. - 31.01. |

---

The red-stag hunting has already been practiced by many kings of England and is still regarded as traditional, highly respected hunting destination.

| | |
| --- | --- |
| Hunting offers: | Stalking hunt, High-seat hunt |
| Shooting season: | 01.08. - 20.10. |

---

Sweden has only a small population of red-stags, whereby red-stags are not hunted in high numbers. But this also increases the chance of a record trophy!

| | |
| --- | --- |
| Hunting offers: | Stalking hunt, High-seat hunt |
| Shooting season: | 16.08. - 31.01. |

---

Red-stag in Spain

The red-stag is one of the major game species in Spain.

| | |
| --- | --- |
| Hunting offers: | Stalking hunt, High-seat hunt |
| Shooting season: | 15.09. - 15.02. |

---

Red-stags are Germany's largest land mammals.

| | |
| --- | --- |
| Shooting season: | 01.08. - 28.02. |

---

After the red-stag was eradicated in Switzerland in the 19th century and the hunt was given up, it immigrated again over mountain passes in very high number, so that the population today is regarded as more than assured.

| | |
| --- | --- |
| Shooting season: | 01.09. - 30.11. |

---

The red-stag inhabits almost the entire continental part of Croatia. Trophies up to proud 7kg are not uncommon!

| | |
| --- | --- |
| Shooting season: | 16.08. - 14.01. |

---

Hungary has always been a classic country for red-stag hunting. Hunters from all over the world travel to Hungary for red-stag hunting.

| | |
| --- | --- |
| Shooting season: | 01.09. - 31.01. |

---

In Slovenia red-stag comes up even to higher layers.

| | |
| --- | --- |
| Shooting season: | 16.08. - 31.12. |

---

The red-stag population in Latvia is excellent.

| | |
| --- | --- |
| Shooting season: | 01.09. - 31.01. |

---

Bulgaria is world-known for particularly strong red-stags. The biggest red-stag antlers reach up to 14kg weight! Hunters who want to shoot a capital red-stag, are well advised with Bulgaria.

| | |
| --- | --- |
| Shooting season: | 01.08. - 20.10. |

---

Romania has a large number of red-stags with impressive trophies between 10 and 15kg.

| | |
| --- | --- |
| Shooting season: | 01.08. - 20.10. |

---

Particularly favored by hunters from Europe, as the rut takes place in April. Red-stag trophies with a weight of 15kg are in Argentina not rare.

| | |
| --- | --- |
| Shooting season: | 01.04. - 31.12. |

---
Hunting outfitter for red-stag hunting with hunting offers: Hunt the red-stag in Europe: Austria, Great Britain, Sweden, Spain, Germany, Switzerland